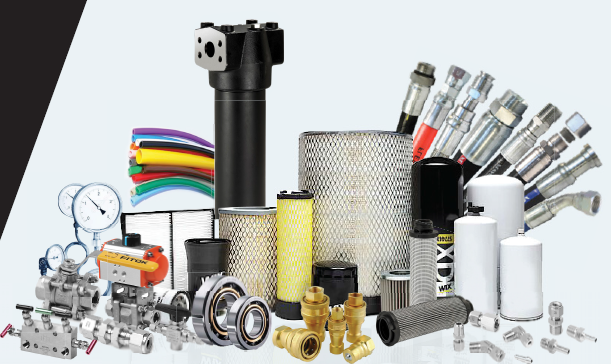 • Hydraulic and Industrial Hoses, Fittings, Adapters, Quick
Disconnect Couplers, UHP Hoses & Fittings, Filters, Pumps,
Motors, Valves, etc.

• Industrial Suction & Delivery Hose and Fittings with Crimped /
Clamped connections for various Industrial Applications
including Water, Oil & Petroleum Suction, Chemical Hose, Material
Delivery Hose, Air Hose, Multipurpose Hose, Cement Delivery
Hose, Concrete Hose assembly with concrete connections.

• Dewatering PVC Layflat Flexible Hoses for Medium & Heavy duty
Applications, Bauer & Miller Couplings, Hose Clamps & Menders
etc.

• Flow Line Products includes Hammer Unions, Threaded & Butt
Weld type for Standard and H2S Services, Ring Joint Gaskets,
Hammer Union Seals and Plug Valves.

• Camlocks, King Nipples, Miller Couplings, Double Bolt and Single
Bolt Clamps, Ball Valves, Gate Valves, Butterfly Valves, Foot Valves.

• V Belts ,Timing belts, Roller chain & chain Links, Couplings &
Element.

• All kinds of seals Including hydraulic seals, Oil seals, Mechanical
seals, rod seals, O-rings, Viton O rings etc

• Bearings (All types)

• Radiator Hoses, Ducting Hoses & Metallic Flexible Hoses

• Air filter Regulators & other Filter( Air, Oil, Fuel & Hydraulic Filters)

• Tubings( SS, Nylon, Teflon) & Push fittings.

• Chalwyn Valves , Spark Arrestor, Fuel Nozzle